WORK CAN BE A "DRAG"!
Are you struggling to come up with exciting corporate outing ideas? Do you want to organize a team building activity that your employees will never forget? Look no further, RAD Torque Raceway can provide you with an experience of a lifetime!
Our high octane venue is the perfect place to challenge your team while rewarding them with an unforgettable experience.  From revving engines to burning rubber, your employees will love the rush that comes with a day at the track. 
Few activities can match the excitement and thrill of driving down the quarter mile. Book a track rental to reward your staff, excite prospective clients or simply have a fun day at the track! RAD Torque Raceway can create the perfect "turn key" experience for your next corporate event that will leave your guests feeling fired up.
RAD Torque Raceway is proficient at hosting corporate and community functions at every level. Ride & drive experiences, customer appreciation events, seminars and fundraisers are just a handful of the customized and thrilling experiences we can create for your company.
With more companies looking for less traditional ways of capturing their customers' interest, we're able to provide a way for you to stand out from the crowd. RAD Torque Raceway offers an unrivaled environment for forming connections and creating an intense and personal experience with your clients. Your guests will appreciate the opportunity to experience something new and exciting, leading to the establishment of lasting bonds and increased loyalty.
Located minutes from South Edmonton with excellent proximity to the Edmonton International Airport, hotels, and restaurants, RAD Torque Raceway is the place to go for fun and excitement. Boasting 20+ years as an Alberta community and tourism partner, we've hosted weddings, walks, runs, cycling races, trade shows, and even music festivals! We'd be happy to host your company's next big event.
FACILITY AMENITIES
Competitor Parking: 400+ Vehicles
General Parking: 2500 + Vehicles
Hi-Speed WiFi
Drag Tower VIP Penthouse Suite: Seating 45
Air Conditioned Tower Lounge: Seating 40
Track Side Classroom: Seating 80
Pavilion: Seating 300**
Grandstand Seating: 10,800 Drag/6200 Oval
Portable Grandstand Accessibility
Complete Restroom Facilities
On-site Concessions/Kitchens
Catering & Hospitality
Extensive Midway/Display
Private Testing
VIP Driving Experiences
Driving Schools/ Ride & Drive
Product Launches
Heavy Equipment Showcase
Peddle Bike/Cycling
Running/Walking Events
Off-Road Course Events
Weddings, Anniversaries, Birthdays
Car Clubs & Shows
Motorcycle Events
Video/Photo Shoots
Commercials & Motion Pictures
Media Events
Community Events
2023 Catering Menu coming soon
Our Pavilion is an Indoor/Outdoor enclosure (roll-up sides and overhead). The Pavilion was designed to provide an intimate stage, lighting, power, large entry for vehicle showcase and proximity to catering and restroom facilities; our track side, customizable space allows for excellent opportunity to host large hospitality events.
Apx 4,800 Sq.Ft
Capacity:

200+ (8 Person Rounds)
350+ (Classroom Seating)

Heat, Power & Lights: Available
Tables, Chairs, Linens: Available
Sound System & Decor: Available
Private 300 Person Grandstand: Exclusive Access
The 800 square-foot Road Course track side Learning Center located at the heart of the Paddock area can serve as a number of roles for catering and meals, classroom demonstration area, or as a separate/private meeting space.
Heated & Air Conditioned
Light & Power
Free WiFi
Capacity:

60+ (8 Person Rounds)
80+ (Classroom Seating)

Capacity: 70
AV: Available
Tables, Chairs, Linens: Available
"TOWER OF POWER" DRAG TOWER PENTHOUSE
Take executive entertainment to a whole new level with our Drag Tower 3rd Floor Penthouse. Whether closing a deal or bonding with customers, family or friends, the RAD Torque Raceway Drag Tower Penthouse offers an unforgettable experience. The Drag Tower Penthouse will literally put you right on top of the action yet provide you with a private atmosphere for you and your guests. The RAD Torque Raceway Penthouse is capable of hosting up to 45 people with full food and beverage service.
Premium 360 view of entire RAD Torque Raceway facility
Exclusive Penthouse Access
Custom Suite Access Credentials
Premium Access Parking for 20 Vehicles
Comfortable Lounge Style seating & decor
Dedicated Suite Attendant
Dedicated Suite Hostess
Full Service Catering Options
In-suite Climate Control
Maximum Capacity: 45 ppl
Located on the 2nd Floor of the Drag Tower, this exclusive area features panoramic views of the Drag Strip, Road Course, and Midway. The air conditioned lounge is open to the public for most Drag Racing events throughout the season, and may be presented to host private functions such as Birthdays, Stag & Stagettes, Private Receptions, or as a private meeting facility.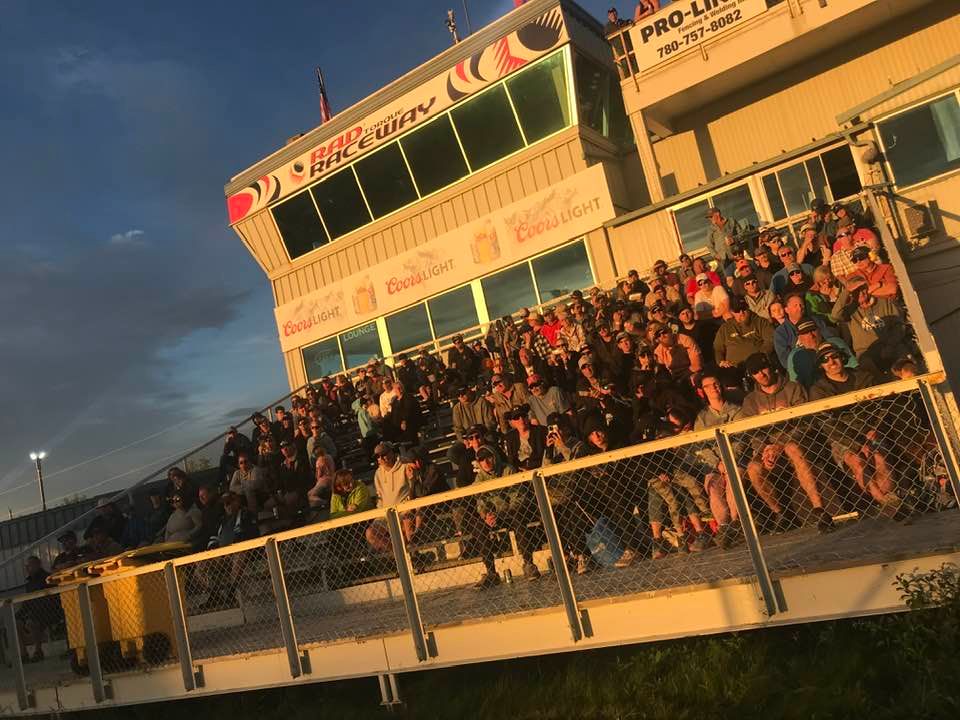 RAD Torque Raceway features a wide variety of tracks that can be configured multiple ways to meet your needs.
ROAD COURSE
There's no better place to have fun and test your skills than on the Road Course at RAD Torque Raceway. Our 2.7 km, 12 meters wide, 14-turn clockwise circuit is the most recently developed and highly anticipated venue at Canada's Premier Motorsports Park. The full circuit can be run in one of three configurations: 1.1 kms (includes high-bank Speedway turn), 1.5 kms, and 2.7 kms. The 1000' straight-away is anticipated to allow the fastest vehicles to approach 300 kms/hour. The track is adjacent to an excellent spectator mound and grandstands. This option has been constructed with the west course separator so we can run two tracks simultaneously. The highly technical track is ideal for both novice and veteran closed course enthusiasts.
VIP DRIVING ADVENTURE
THE MOST POWERFUL CORPORATE CONNECTION YOU CAN EXPERIENCE
The RAD Torque Raceway VIP Driving Adventure is an excellent program to offer your highly valued customers, associates, staff and management to keep them excited and involved with your company. Our all inclusive driving experience puts your guests behind the wheels of their own cars on a closed circuit track that shows them what it means to be a professional driver. For the adventurous motoring enthusiasts; an in-depth and intense Instructional training program is customized for your adventure. One-on-one in-car instruction with driver development experts provided for each Guest.
DRAG STRIP
The Drag Strip at RAD Torque Raceway features 22 Suites, two (2) Tower Lounges, Trackside Pavilion, state of the art control and timing system, new LED scoreboards and permanent restroom facilities.  The adjacent paddock/pit area features 12,000 sq.meters of unobstructed asphalt that is ideal for the most intimate and largest events.
FACILITY
RAD Torque Raceway's 320 Acre facility annually holds a variety of venues including a ¼ NHRA Dragstrip, 2.7 km Road Course, 3/8 Mile Clay Oval, 12,000 Sq.Meter Paddock, 10-Acre Off Road Dirt Track, a plentiful parking and showcase area. Our concessions and catering offer a full menu for the whole family and we're home to a great playground facility to keep the kids. Full Restroom facilities and change tables are available for your convenience, as well as an extensive Midway area to get the hottest RAD Torque Raceway and event merchandise.