*Dates subject to change without notice*
RACE TO RENEW!
Thank you, we are so pleased you have chosen our facility as your place to play.
Once again, we are offering Drag competitors the opportunity to select and rent a permanent Pit Stall for the Bracket Drag Series events throughout the 2023 season.
All Stalls are allocated on a First Right of Refusal until February 15, 2023.
New Stall Purchases are available beginning March 1, 2023 and will be issued on a First Come basis.
If you believe we may not have your most up to date e-mail address, or if you would like to move stall areas, or have any general questions- please reach out directly to the RAD Torque Raceway Office. Please contact the RAD Torque Raceway office to RENEW/request changes your pit stall subscription at 780-461-5801 (Weekdays 9am-4:30 pm).
SPORTSMAN PIT STALL: $350
PRO PIT STALL: $500 (Limited Availability)
IMPORTANT: Please familiarize yourself with our DRAG PIT STALL POLICIES

Scan the QR to Get the FREE Time Slip App
APPLE & ANDROID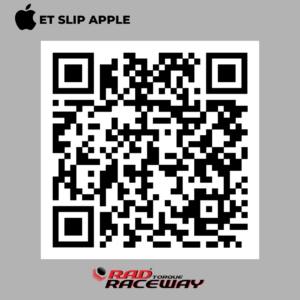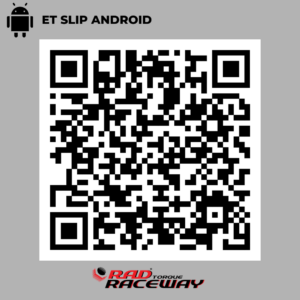 Drag racing time slips from RAD Torque Raceway are historically printed using a receipt printer; this app shows the same time slips information on your phone.
Enhanced racer's and spectator's experience at the track by giving more detailed information from each pass on their smartphones in real time within seconds after each race.
The app shows weather station information and calculates corrected density altitude automatically to help racers tune their engines before racing.
All persons entering the facility via the Drag Competition Gate (Racers, Crew, Visitors, Family, and Children) are REQUIRED to complete the online SmartWaiver. The Smart Waiver only needs to be complete ONCE per season. Gate Staff will verify all Electronic Waivers upon entry.
IMPORTANT: ALL Participants will be required to CHECK IN at the Competition Gate EACH DAY prior to getting on Track; Waivers and Race Registrations must be confirmed DAILY for both Insurance and AHS verification purposes. Persons not adhering to the daily check-in process may be subject to immediate removal from the facility.
Thank you in advance for your cooperation and understanding.
ONLINE DRIVER & CREW REGISTRATION
PLEASE HAVE YOUR E-TICKET PRINTED OR READY TO SCAN ON SMART PHONE UPON ENTRY 
GATE PAYMENT: Advance online ticket purchase is highly recommended and greatly appreciated. For those without access to technology or do not have a credit card, admission payment may be made at the gate upon arrival at the facility.
Please Note: if you are not attending with a Designated Driver DO NOT purchase A Crew Pass- CREW Passes are specific to those persons deemed essential to a Registered Race Team. 
Thank you in advance for your support and understanding; please don't hesitate to reach out at any time with any questions or concerns: 
info@radtorqueraceway.com
Please Print & Complete NHRA Tech Form prior to Event Day; Tech Cards may not always be provided at the facility on Race Day.
Please bring completed Tech Form with you on Race Day.
Non Essential persons are NOT permitted in the Tech Inspection area at any time.
NHRA information websites :
DRAG COMPETITOR/VISITOR ENTRY FEE
You may pre-purchase your Participant, Junior, and Visitor Passes are available on the RAD Torque Raceway website.
Get ready for another great Race Season: It's our race participants like you who make RAD Torque Raceway a success. It is our pleasure to provide the best possible experience for each competitor at our facility.
Watch the drag races LIVE on our YouTube channel. At the track? Listen to the drag races live at RACE RADIO 88.9 FM.
Bracket Drag Crew
$25/day
Drag Competitor (Second Class**)
$25/day
** With more participants running in two separate classes each weekend, our days are getting just a little bit longer…i.e. more staff hours, more ambulance hours, another coat of VHT…. it all adds up. So we've decided, moving forward racers will need to purchase a second Tech Card to run in a second class.
Thank you for choosing RAD Torque Raceway as your place to play; please don't hesitate to reach out at any time with any questions or concerns: info@radtorqueraceway.com
RAD Torque Raceway's 1/4 mile drag strip is sanctioned by the National Hot Rod Association (NHRA). For more information, please visit www.NHRA.com