NOVEMBER 23, 2023 - JANUARY 6, 2024
Experience the ultimate holiday magic with the Canadian Tire Magic of Lights! This incredible event boasts a mesmerizing 2.5 kilometers of over 2 MILLION festive and vibrant LED-lighted displays, creating a truly enchanting drive-through experience that you can enjoy from the comfort of your own car. As you prepare to be captivated at every turn, immerse yourself in a world of stunning light displays and dazzling animations. Don't miss out on this extraordinary celebration of the joy and wonder of the holidays. Join us, and let the magic of lights illuminate your holiday season!
A heartfelt thank you to our sponsors Canadian Tire, Diversified Transportation and JetSet Parking. Thank you for helping us create memorable experiences and bringing joy to our community!
A portion of proceeds from every vehicle goes to support our chosen Charities: 630 CHED Santas Anonymous and Canadian Tire Jump Start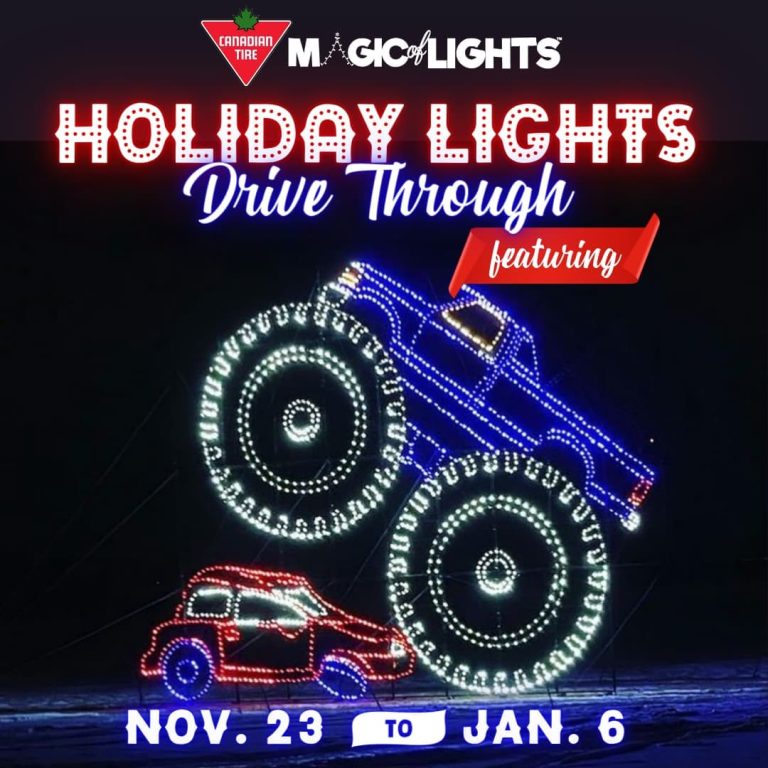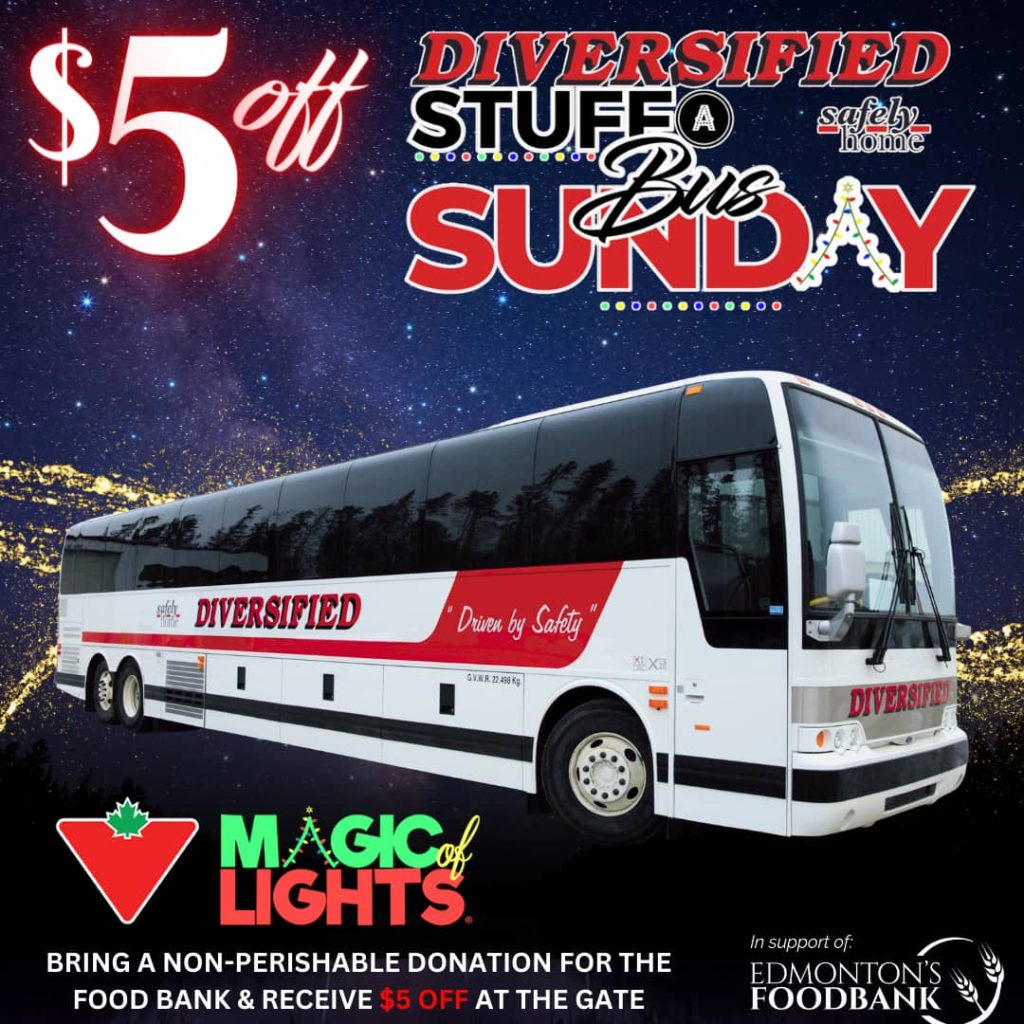 Well known in the north for their world-class oil sands Employee Transportation Services, Diversified is proud to also offer Charter Services throughout Alberta. They operate a large fleet of highway motorcoaches and shuttle vehicles in Northern Alberta with charter sales centres in Edmonton and Fort McMurray.


Scan the QR code for a quote today! Mention this post for a special all-inclusive Magic of Lights tour rate.

Be sure to join us for Diversified Transportation "Stuff a Bus Sunday" throughout the season – bring a non-perishable food donation for the Edmonton Food Bank, and receive $5 off admission at the gate.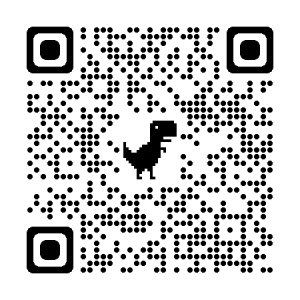 We're delighted to announce the return of our sponsor, JetSet Parking, for the 2023 Canadian Tire Magic of Lights!
jetSet Parking is proudly locally owned and operated, supporting economic development and job creation at home. They offer convenient, low price airport parking to meet every traveller's budget. They provide complimentary shuttle service between the terminal and parking lot which is available round the clock. 
Book online and save at selfPark and valetPark using promo code MAGIC20.  *Valid for online reservations only while quantities last.  Book by January 1, 2024 for travel by March 31, 2024.
GROUPS: TIME TO CELEBRATE
Step into a fresh era of group celebrations at RAD Torque Raceway! Leave behind the traditional corporate gatherings and discover a more imaginative, cost-effective way to enhance employee engagement while making a positive impact on your community.
As you navigate through the enchanting route, prepare to be spellbound by the array of breathtaking light displays and whimsical animations. This event transforms multiple holiday themes into sparkling reality, thanks to over 1.5 MILLION twinkling lights! So why not ditch the traditional party this year and opt for this unique holiday experience?

Great for Businesses of All Sizes:  20-2,000 Vehicles
One Carload- One Price
Group Discount Options
Event 'Choice' Night Exclusivity or Flexible Day Admission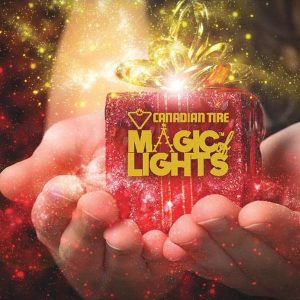 GIFTS FOR CLIENT AND STAFF
Gift giving is important for maintaining relationships; send gifts to the people who help make your company great.
Treat your Clients and Staff to a memorable experience with a Magic of Lights FLEX PASS. This pass allows them to enjoy a complimentary Car Flex or Dash Pass at their own convenience* throughout the Magic of Lights event. It's the perfect way to show appreciation to your team and their families. Plus, with multiple purchase discount rates available, it's an affordable token of gratitude that everyone will love. Don't miss out on this opportunity to bring joy and magic to those who matter most. (*Some date restrictions may apply- See CALENDAR for details).
| Quantity | Discount Rate** |
| --- | --- |
| 21-35 Car Passes | 5% off |
| 35-50 Car Passes | 10% off |
| 51-75 Car Passes | 15% off |
| 76-100 Car Passes | 20% off |
| 100+ Car Passes | 25% off |
** Discount applied to standard Car Pass
Worry-Free Ticket Distribution with RAD Torque Raceway
Say goodbye to concerns about unused tickets! RAD Torque Raceway offers a hassle-free solution for your company. We provide you with a personalized promotional code that you can distribute to friends, family, customers, and staff as you see fit. The best part? You'll only be billed for the passes that are actually redeemed for a Magic of Lights Car Pass. Plus, enjoy group ticket discounts based on the quantity of passes redeemed.
Ensure a seamless experience for your group with RAD Torque Raceway's ticket distribution solution.
A portion of all proceeds in support of 630 CHED Santas Anonymous and Canadian Tire Jump Start
We have a few quick tips to make the most of your Magical Holiday experience
Please keep pace with the vehicle in front of you, you will be traveling at approximately 5 kms per hour.  In the interest of safety, please do not exceed 10 kms/hour at any time. Please no stopping, passing or getting out of your vehicle at any time.
We recommend turning your headlamps down to the lowest possible setting, the darker it is the more dynamic the displays.  Please don't forget to turn your headlamps back on before return to the roads.
Last, but not least, add some melodic joy to your drive, tune your radio to 88.7 FM to enjoy merry melodies provided by 96.3 The Breeze.
TIMING TIPS FOR A MAGICAL VISIT
The Canadian Tire Magic of Lights offers a vibrant atmosphere, especially during the weekends. Throughout the bustling holiday season, many visitors arrive on Fridays, Saturdays, and Sundays between 6:30pm and 9:30pm. Typically, you will enter the Magic of Lights experience in under 10 minutes, though there may occasionally be slight delays. The 2.7 kilometer – 30 minute journey will be enjoyed travelling at 5kms/hr.
For those seeking a more intimate and tranquil experience, we recommend planning your visit from Monday to Thursday. Additionally, arriving earlier (between 5:00pm and 6:30pm) or later than 9:30pm on weekends can be a savvy choice to steer clear of the crowds and savor a leisurely outing.
**For our Guests enjoyment and planning purposes updates will be posted on Facebook and Twitter In the event our wait time exceeds 40 minutes.
Weather Conditions to be monitored for the area of the Edmonton International Airport (YEG) taken into consideration at 3 pm daily as per ENVIRONMENT CANADA
CAR, LIMO, BUS:  For the Safety of our Staff, Guests, and Crew, the Magic of Lights holiday light display will be cancelled when the temperature dips below minus 30 degrees celsius or in the event of an extreme Environment Canada Winter Weather Alert (see criteria below).  Cancellation Policy will ONLY be in effect for the specific date/single day of temperature drop or when Environment Canada Weather Warnings are in effect. Please note that cash refunds are not available.  Standard Flex vehicle passes and dash passes can be redeemed on any single day* during the duration of the Magic of Lights event.
* Some date restrictions may apply
Winter Storm  – Issued when a combination of hazardous winter conditions are occurring.
Blizzard  – Issued when winds of 40 km/h (25 mph) or more, are expected to cause widespread reductions in visibilities to less than 1 km (0.62 mi), due to blowing snow, for at least four to six hours and windchills are expected to be very low.
Snowfall  – Issued when hazardous amounts are expected to fall over a 12- or 24-hour period. These amounts vary across the country due to topographical and climatic considerations.
Snowsquall  – Issued when 15 cm (5.9 in) or more of snow is expected to fall within 12 hours, or the visibility is likely to be near zero for at least four hours because of falling and blowing snow. These are for areas much smaller than a snowstorm would cover. A warning may also be issued when blizzard-like conditions are expected to develop in the vicinity of a cold front for short periods.
Freezing Rain – Issued when hazardous walking and driving conditions are expected from freezing rain or drizzle. A warning may be issued if ice is over 2 mm (0.079 in) thick and has the potential to cause damage to trees and overhead electricity and telecommunications wires.
Flash Freeze Warning – A rapid drop in temperatures, causing freezing of residual water on roads, and sidewalks to quickly build up.
OUR COMMUNITY & CONTRIBUTIONS
COMMITMENT TO OUR COMMUNITY
At RAD Torque Raceway, our dedicated team is deeply passionate about our business, both on and off the track, whether it's summer or winter. Moreover, we firmly believe that when you're fortunate enough to have opportunities, it's your duty to share those opportunities with others. Time, commitment, and community are values we hold dear and strive to celebrate.
Over the years, our business has allowed us to connect with and support our community in ways we never imagined. It's the unwavering encouragement from our Family, Friends, Fans, and Racers that fuels our drive to cultivate enduring partnerships that directly benefit our community.
In gratitude, we extend our heartfelt thanks to all who contribute to the magic we create together. You truly are the magic that keeps our journey alive. Thank you for your unwavering support and for "Being the Magic."
Discover the enchantment of partnering with us for the Canadian Tire Magic of Lights! Contact us for more information on sponsorship opportunities and bring your brand into the spotlight. Let's make holiday memories together!