EDMONTON INTERNATIONAL AIRPORT
Edmonton International Airport (EIA) serves as the primary air passenger and cargo facility in the Edmonton Metro Region. Situated conveniently between Edmonton and Leduc on Highway 2, it offers non-stop flights to 60 destinations in Canada, the United States, Europe, Mexico, and the Caribbean. EIA is Canada's largest airport by land mass and ranks fifth in passenger numbers. 
Explore EIA's official website for comprehensive information and stay updated through their Twitter announcements and contests. Join EIA rewards for a chance to win free flights and receive exclusive monthly offers on parking, shopping, and dining discounts.
COAST NISKU INN & CONFERENCE CENTRE
1101 4 St, Nisku, AB T9E 7N1
Phone: 780-955-7744
Visit Website
RAD Torque Raceway would like to welcome the Nisku Inn and Conference Centre as a preferred partner!
Special 'RACE' room rate
Shuttle service available to and from RAD Torque Raceway.
Exciting Family Water Park & Hot Tub
Pet Friendly
Montana's Restaurant and The Den Pub
For bookings please contact the Nisku Inn & Conference Centre by calling 780-955-7744
CAMPING AT RAD TORQUE RACEWAY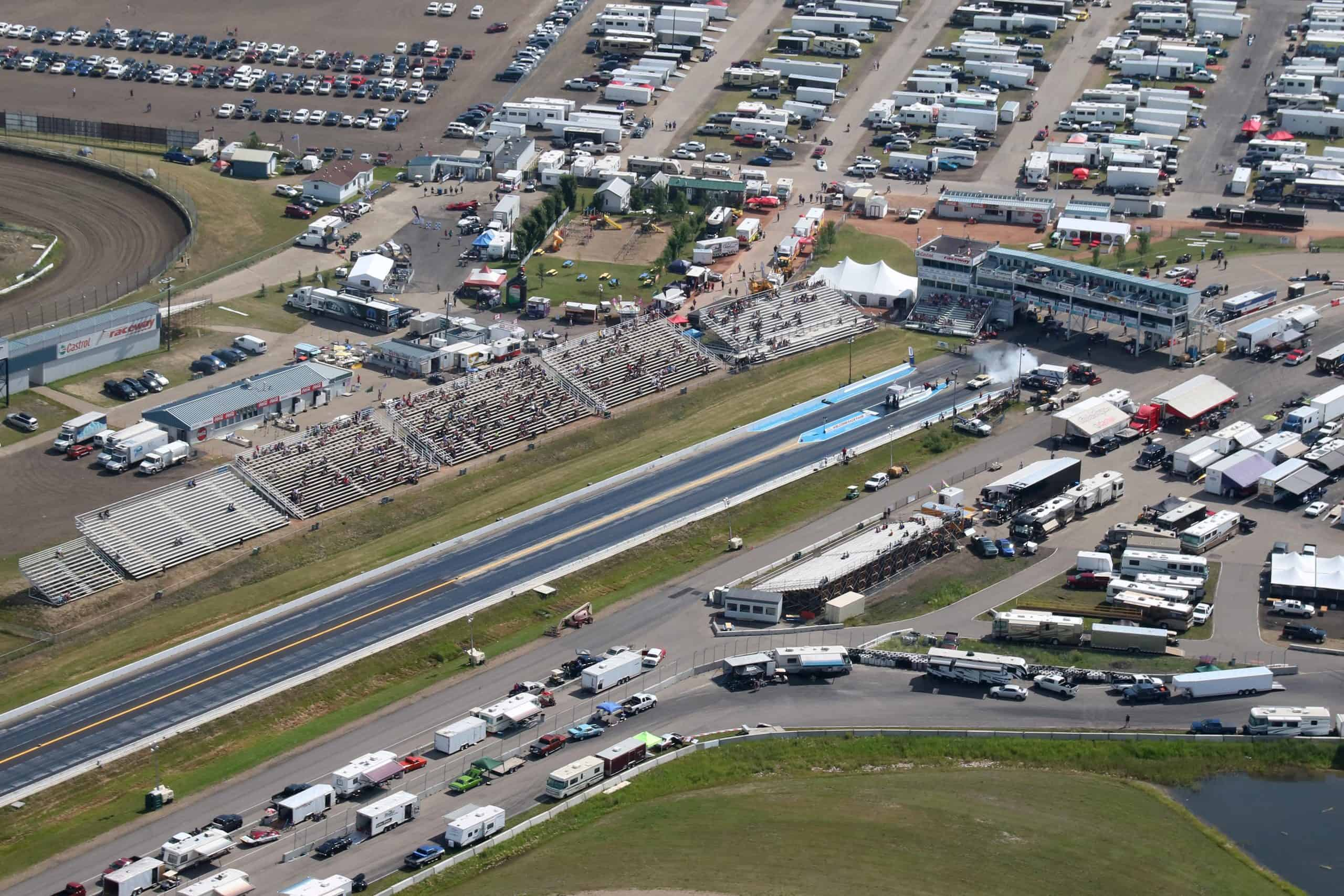 Great racing by day and great times at night. There's no better way to experience a race weekend that the RAD Torque Raceway Motorhome Village. Whether you want to relax or rev-up we have a space with your name on it!
Camping is available to Racers of the Rocky Mountain Nationals. Spaces go fast, so round up your friends and book your campsite today!
Motorhomes and recreational vehicles only; all vehicles must be self-contained. Sorry, no tenting permitted.
*Please note: there is NO overnight camping permitted in the spectator parking area. Please see Travel & Accommodations for recommendations.
MOTORHOME VILLAGE POLICIES
Event Pass Requirement: Every person in the Motorhome Village during the event must possess a WEEKEND event pass without exceptions!

Wristband Requirement: Upon entry, each person will receive a Motorhome Village access wristband which must be worn at all times. Additional wristbands will not be provided under any circumstances.

Motorized Vehicles: The use of motorized vehicles (quads, golf carts, motocross bikes, scooters, etc.) operated by the public are strictly prohibited in the Motorhome Village. Violators will face immediate confiscation of their vehicles for the entire weekend. Competitors and crew members must register and display their Team # on "Pit Vehicles" while adhering to the Pit Vehicle Policy.

Utilities: Please be aware that the Motorhome area does not offer electric or water hook-ups. Ensure your units are fully serviced before entry. Generators are welcome but must be used considerately to minimize noise and should not be left running unnecessarily.

Restroom Facilities: Portable restrooms are available on-site for your convenience.

Waste Disposal: A vacuum disposal truck will be on-site for a minimal fee. Any form of dumping is strictly prohibited (violation results in immediate expulsion).

Garbage Collection: Garbage will be collected from your unit between 7 am-9 am daily. Each unit will be provided with recycle "Blue Bags" for pick-up. It is mandatory to leave full bags behind your unit for scheduled pick-up. All garbage and recyclables must be deposited into provided receptacles during scheduled events.

Unauthorized Vehicles: Unauthorized vehicles within the designated camping areas will be promptly removed.

In/Out Privileges: During the event, vehicles and units are not permitted to leave the Motorhome restricted area until the event concludes.

Pets: While pets are welcome, please adhere to the Pet Policy rules diligently.

Cleanliness: We kindly request that you maintain the cleanliness and tidiness of your rented Motorhome site.

Fire Policy: Natural open fires of any kind are not permitted. Gas/Propane Fire Pits are allowed but should be operated with discretion.

Responsibility: You are held accountable for all individuals within your Motorhome Lot area.

Facility Policies: All guests are required to comply with all Facility Policies.

Lost Property: Please be advised that RAD Torque Raceway is not responsible for any lost of stolen property. All items are left at the owners discretion.
These policies are crucial for ensuring the safety and enjoyment of all individuals within the Motorhome Village.
Tell them RAD Torque Raceway sent you!
This family RV Park is located in the City of Leduc close to the Leduc Recreation Centre.  Leduc Lions Campground is 13 km SE of EIA (airport), and 25 km south of Edmonton.  In addition to campsites, we have two playgrounds and a recreation area that includes two pickleball courts.
4314 Lions Park Road, Leduc, AB T9E 1C9
For all bookings and campground inquiries, please call: 780-986-1882
Explore Leduc #1 Campground's amenities, featuring 20 RV stalls with 15/30 amp power and water. An unserviced overflow area is also available. Campers with Leduc #1 reservations can enjoy indoor showers, washrooms, and a children's play area. For your convenience, there's a sewer-dump station just five minutes away in the Town of Devon.
50399 Highway 60 South Leduc County
For all bookings and campground inquiries, please call: 780-405-6308.
The Devon Lions Campground is a peaceful tranquil getaway nestled in the North Saskatchewan River Valley. A fantastic place to holiday just 15 minutes from Edmonton.  Enjoy a variety of camping facilities to meet your needs.
1140 Saskatchewan Avenue East Devon, AB
For all bookings and campground inquiries, please call: 780-987-4777