DRAG TRACK
MORE INFORMATION
Throughout the 6-month "race" season RAD Torque Raceway holds a comprehensive schedule of drag racing events ranging from Street Legal to Jet Cars. The drag strip is fully equipped to conduct feature events for up to 15,000 Fans; home to the Rocky Mountain Nationals NHRA Canadian Open, and Canada's largest single Day Drag event Hot August Night Jet Car Show.
This facility includes 22 enclosed Suites, Two (2) Tower Lounges, state of the art art control and timing system, new LED scoreboards and permanent restroom facilities. The adjacent paddock/pit area features 12,000 sq. meters of unobstructed asphalt that is ideal for even the largest ride-and-drive events.

Stream drag races live on our YouTube channel or listen live at RACE RADIO 88.9 FM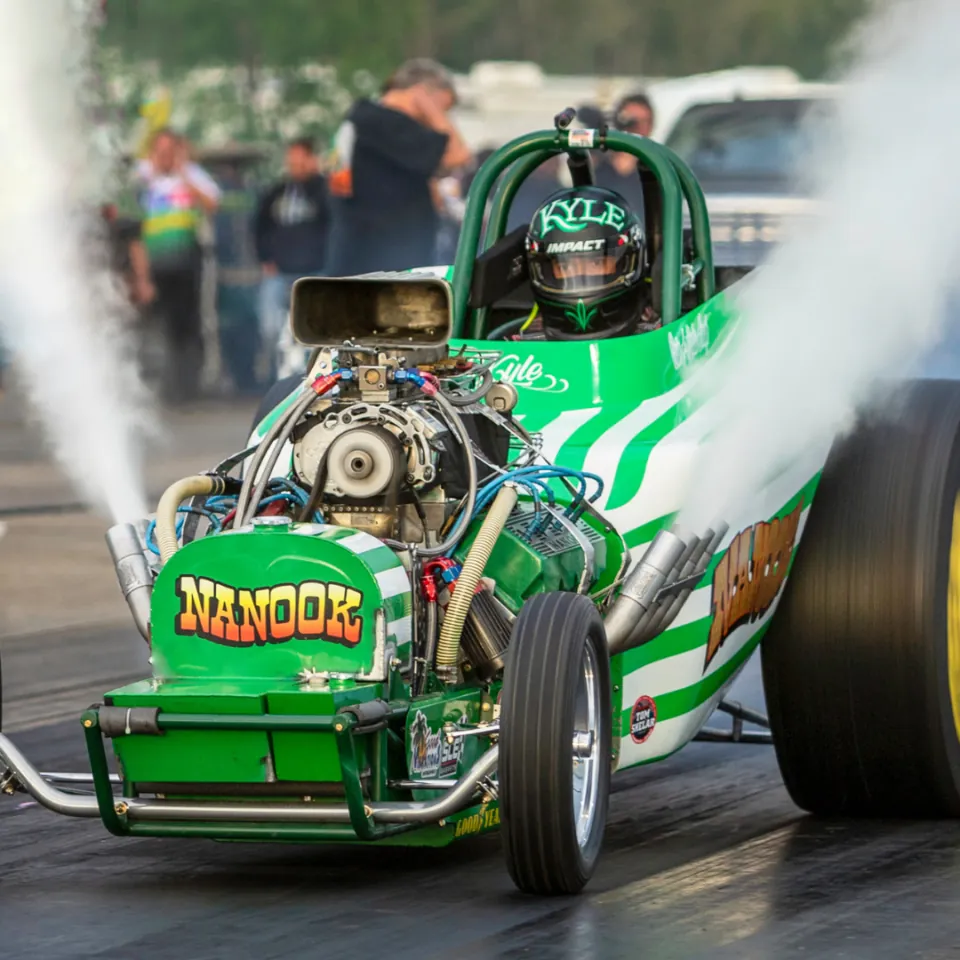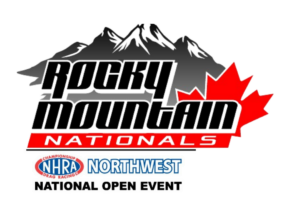 The Rocky Mountain Nationals featuring NITRO NIGHT delivers all of the power and sounds of action-packed professional Drag Racing.  2023 brings back Hayden Proffitt's HOT STREAK II Jet Truck,  Fierce & Fiery Female Driver Shelly Segal in her Firestarter Jet Dragster, 8 Nitro Nostalgia Funny Cars,  6 Nitro Fuel Altereds,  Nitro Harleys & Pro Fuel Bikes, Gassers, 200MPH Funny Cars, Diesel Trucks and so much more.
The 2023 Rocky Mountain National event will once again feature the best sportsman drag competition with the  NHRA Canadian Open racing series and  the Canadian Motorcycle Drag Racing Association (CMDRA). A full line-up of Professional and Amateur Car & Bike Class competitors from throughout North Western Canada and the United States competing for the "Wally" (Drag Racing's most coveted trophy award).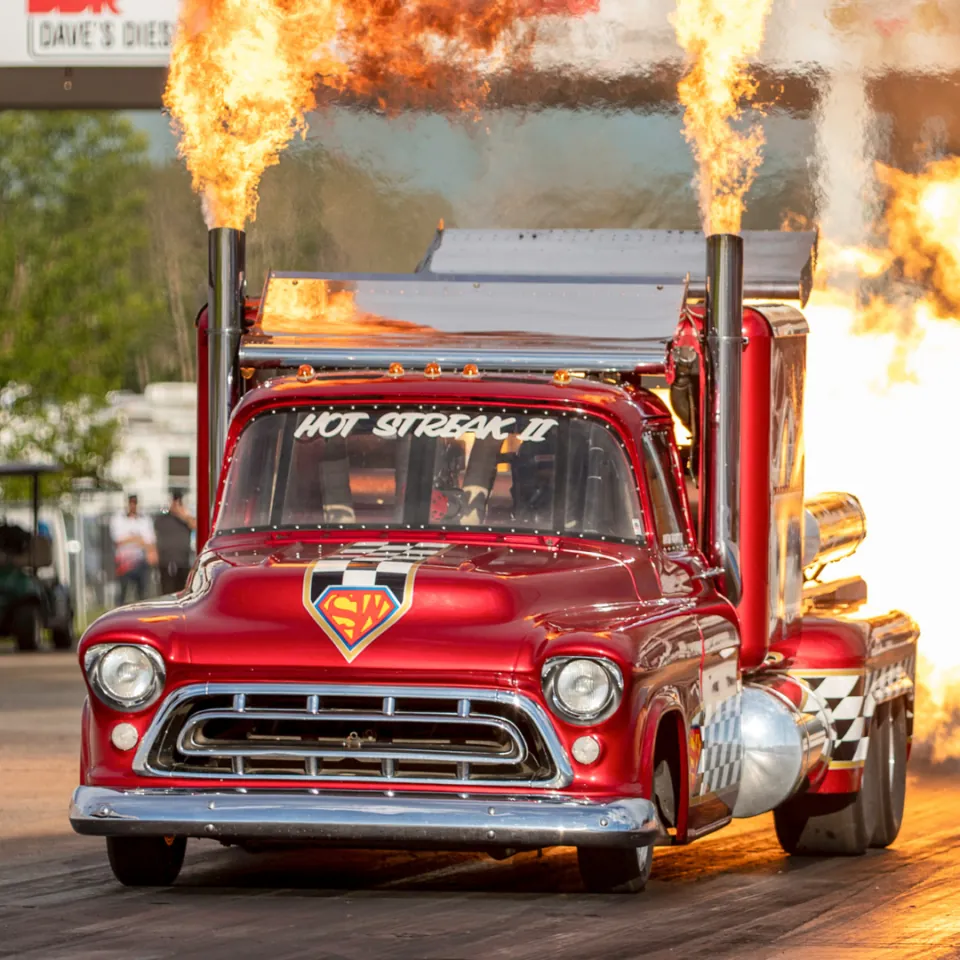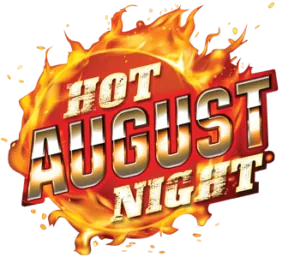 FLAMES, SMOKE & SPEEDS APPROACHING 300MPH!
Hot August Night returns this summer in all of it's pre-pandemic glory. For One Night ONLY, it's sensory overload; Fans will see the skies light up with 50 foot flames, hear the roar of engine after-burner 'pops', take in the smell the burning fuel, feel the ground pounding thrust of acceleration, and taste the hot evening air filled with flavors from the track.
Hot August Night features Chuck Haynes in the Gravity Storm Jet Car, Funny Cars, Pro Fuel Bikes, 200MPH Dragsters & MORE! The show is enhanced by Regional hard core competition and showcase exhibition with the EPS Blue Line Racing and RCMP YIELD Teams.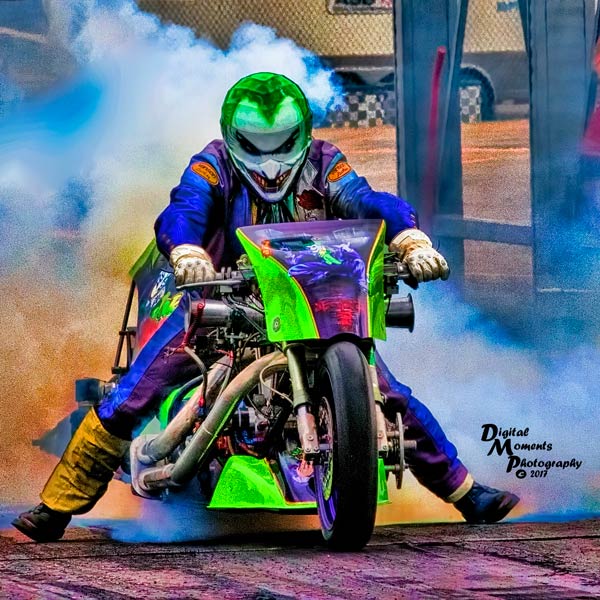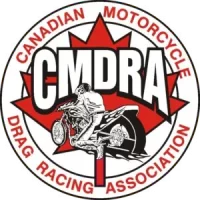 600 pound, 600 HP drag bikes exceeding 200 MPH and the chance for our fans to view some of the most extensive and up-to-date bike technology. Coordinated in partnership with the CMDRA (Canadian Motorcycle Drag Racing Association) are a must see for drag racing enthusiasts. In partnership with the NHRA Div 6 Bracket Series. 
More Info Visit http://www.cmdra.com/
Sign up for our newsletter
May 12 - September 30, 2023
The NHRA-sanctioned 1/4 mile drag strip at RAD Torque Raceway is home to one of Canada's fastest-growing factions of street rods and sport compact cars. Since the inception of the "Fast and The Furious" sub-culture, the demand for extreme sports is ever-increasing. Competitors and spectators jump at the chance to see their friends, family, and adversaries compete in the quarter mile. RAD Torque Raceway works very closely with the Leduc RCMP, Stony Plain RCMP, Edmonton Police Service, and numerous local high schools to not only promote the sport but to encourage young street racers to take their passion for speed to a safe environment.
The Pride of our Park! Our Street Legal Safety through Education racing program is designed to encourage "Speed" in a safe, controlled, and fun environment taking it off the streets. In partnership with the Edmonton Polices Services Blue Line Racing program and the RCMP Y.I.E.L.D. (Youth Initiative for Education in Lifestyle & Driving). 
The Bracket Drag Series combined with the NHRA Division 6 regional competition is the weekly series where local sportsman racers vie for year end points championship. Electronics, Non-electronics, Top Eliminator, Cash is King 1/8 Mile and Jr. Dragster classes all compete regularly throughout the season for admiration amongst their piers and the Championship Trophy.
Special Regional NHRA Series: Land of the Leaders, King of the Track, Junior Champion and Member Madness.
NITRO RATZ JUNIOR DRAGSTER ASSOCIATION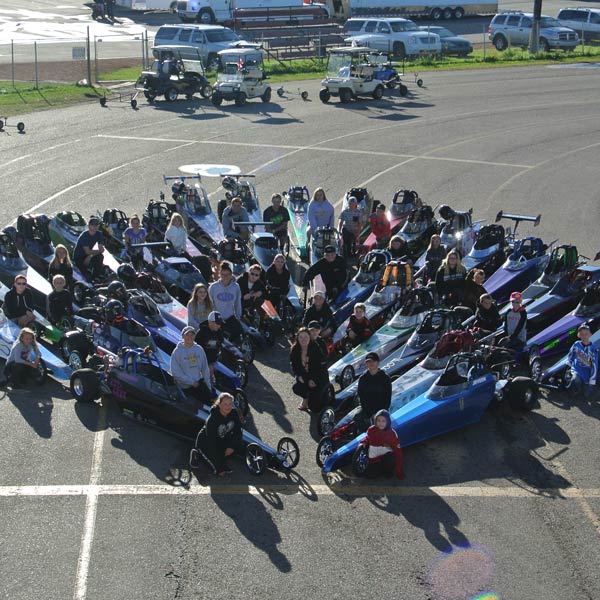 Fueling our passion for motorsports, 19 years ago, in partnership with a dedicated group of parents, a non-profit organization was created to develop a local racing division for children ages 7-17. The Nitro Ratz Junior Dragster Association is a group of dedicated kids, families, and volunteers who promote early respect for automobiles and safe driving skills, sportsmanship, camaraderie, team spirit, and lifelong friendships. We are proud to have raised over $120,000 for the youth racing program over the past 12 years. Junior drag racing offers kids ages 7-17 the opportunity to experience the thrill of racing half-scale dragsters in a controlled racing environment. The cars that competitors race are called Jr. Dragsters and are half-scale versions of Top Fuel dragsters. Using a five-horsepower, single-cylinder engine, a Jr. Dragster can go as fast as 85 mph and as quick as 7.90 seconds in an eighth-mile.