MIDAS HOT AUGUST NIGHT
August 10 @ 3:00 pm

-

11:00 pm

$13 – $88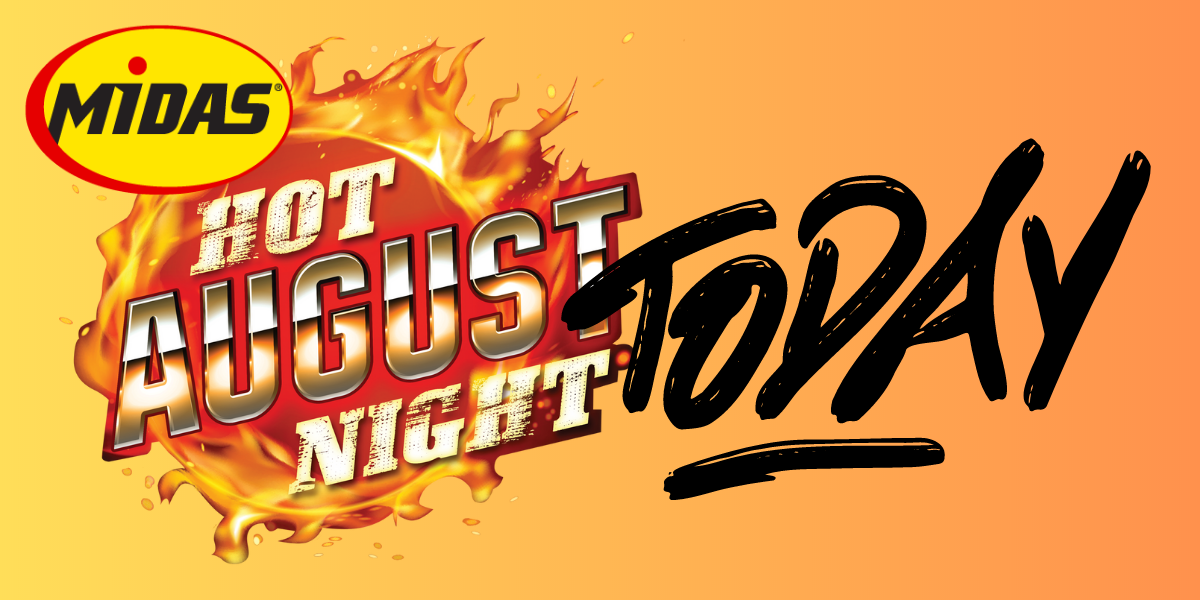 **IMPORTANT- HAN POSTPONED**
Dear valued guests and motorsport enthusiasts,
We regret to inform you that tonight's Hot August Night event has been postponed due to inclement weather. At RAD Raceway, safety is our top priority, and we cannot risk the safety of our guests and drivers in these conditions.
However, we have rescheduled the event to take place 𝐓𝐎𝐌𝐎𝐑𝐑𝐎𝐖, 𝐀𝐮𝐠𝐮𝐬𝐭 𝟏𝟎, as a Rain Out event. We understand that some of you may not be able to attend tomorrow's event, or if it gets cancelled due to weather, we are happy to offer you a credit for the 2024 Hot August Night event tentatively scheduled for August 14, 2024.
To arrange for event credit, please contact the RAD Raceway office at info@radraceway.com.
We apologize for any inconvenience this may have caused and look forward to welcoming you back to RAD Raceway soon. Thank you for your continued support.
FLAMES, SMOKE & SPEEDS APPROACHING 300MPH!
For One Night ONLY, it's sensory overload; Fans will see the skies light up with 50 foot flames, hear the roar of engine after-burner 'pops', take in the smell the burning fuel, feel the ground pounding thrust of acceleration, and taste the hot evening air filled with flavors from the track.
Hot August Night features Jet Dragsters & Funny Cars, Pro Fuel Bikes, 200MPH Dragsters & MORE! The show is enhanced by Regional hard core competition and showcase exhibition with the EPS Blue Line Racing and RCMP YIELD Teams.
RACER & CREW GATES OPEN @10AM
REGIONAL COMPETITON NOON- 5:30PM
GATES: 3:00PM
MANUFACTURES MIDWAY OPENS 3:00PM
BRACKET ELIMINATIONS 3:00PM – END
PRO MOD (ROUND 1) 4:00PM
X275 (ROUND 1) 4:00PM
OPENING CEREMONIES 5:30PM
PRO MOD (ROUND 2) 6:00PM
X275 (ROUND 2) 6:00PM
PRO SHOW (ROUND 1) 6:00PM – 8:00PM
JET CARS 8:00PM
PRO MOD (ROUND 3) 9:00PM
X275 (ROUND 3) 9:00PM
PRO SHOW (ROUND 2) 9:00PM – 10:30PM
JET CARS 10:30PM
FIREWORKS TO CLOSE OUT THE SHOW
*Schedule subject to change without notice*
FACILITY MAP
What type of ticket should I get?
ADULT (All persons Age 13+ years)
YOUTH (All persons Age 6-12 years)
**Kids 5 & Under FREE**
THUNDER ALLEY VIP PASS: Ultimate Race Day Experience (Limited Capacity 275) You can't get closer than the Start Line: Seated at the heart of the action with Trackside Pavilion Access; Private Host/Hostess Service, Commemorative Lanyard, Complimentary Sweets, Treats & Beverages, Limited Edition Event Poster, and exclusive Prizes.
RESERVED SEATING: The best view from the Grandstands; the RESERVED Seating Section situated at the Start Line is slightly angled to see down track to the finish line. Reserved Seats (Adult & Youth GA +$10 per Ticket/DAY). Please Note: The Reserved Ticket option includes access to the limited capacity grandstand 'section'; does not include individual seat assignment.
GA SEATING: General Admission (also known as open seating or free seating); each spectator has a ticket. The seat location from which they will watch the event is determined upon arrival at the venue.