HEAVY METAL TRIPLE CROWN SMX NATIONAL
June 3 @ 3:00 pm

-

9:30 pm

$13 – $73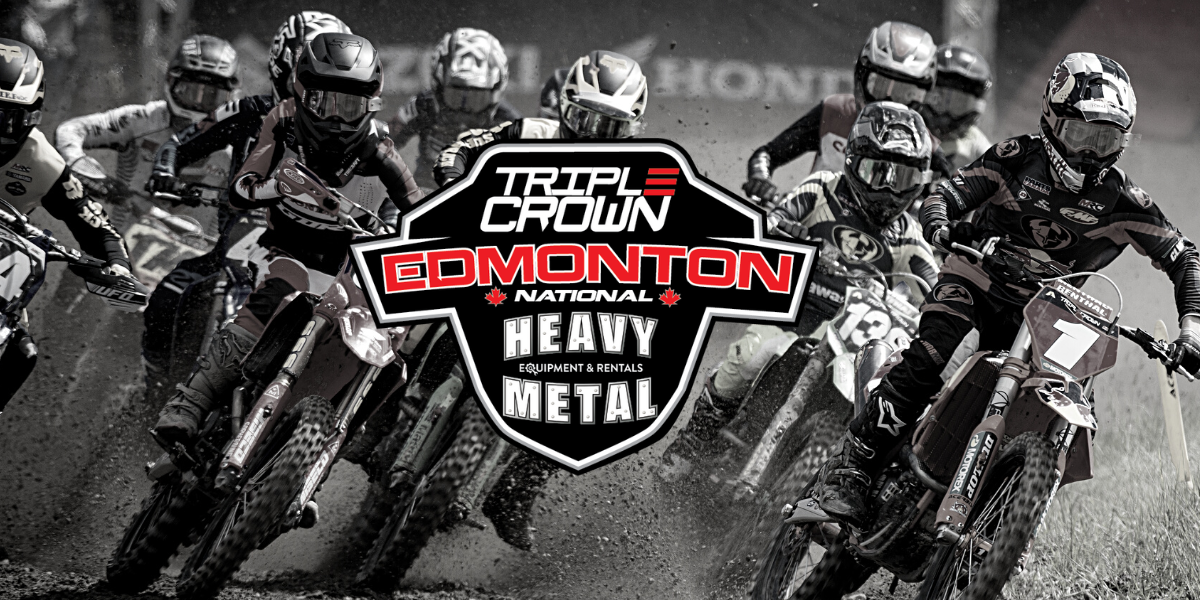 The Canadian Triple Crown Series will be making an Inaugural stop at Edmonton's RAD Torque Raceway this upcoming season. The Heavy Metal Triple Crown Edmonton SMX National  is slotted to kick off Round #1 of the 2023 race season. The RAD Raceway facility will undergo a brand new track build comprised of part Oval Track/part motocross track. The build concept promises to be the first of its kind for the Triple Crown series, and possibly the first of it's kind in Canada. The plan is not only to create a premier race event for the competitors and manufactures, but a full festival of SMX and motorsport fun for the Fans.
What type of ticket should I get?
ADULT (All persons Age 13+ years)
YOUTH (All persons Age 6-12 years)
**Kids 5 & Under FREE**
WEEKEND ADULT $60.00 **SAVE 15%**
WEEKEND YOUTH $30.00 **SAVE 15%**
EARLY ACCESS Including Exclusive PIT PARTY  $10.00 (Saturday Only)
Join us early (10AM) for  a full day of Practice and Qualifying action along with the Pit Party @ 2PM! Exclusive Entertainment for the Whole Family:  Early Entry , Get Up Close & Personal with the Riders & their Bikes ; Limited Edition Event Poster, Fun Family Games and Prizes, and FREE Ice Cream! Just $10 per Guest. (LIMITED AVAILABILITY)
SATURDAY ADULT $35.00
SATURDAY YOUTH  $20.00
SUNDAY ADULT $25.00
SUNDAY YOUTH $15.00
Please Note: All tickets subject to a $3 Host Fee
RACE DAY SCHEDULE
SATURDAY
RACER GATES OPEN: 7AM
SUPPORT CLASS PRACTICE: 9AM
EARLY ENTRY PASS GATES OPEN @ 10AM
SUPPORT CLASS MOTO #1: 10AM
PRO PRACTICE: 11AM
SUPPORT CLASS MOTO #2: NOON
PRO QUALIFYING: 1PM
PIT PARTY: 2PM
FAN GATES OPEN: 3PM
PRO SHOW: 4PM-8PM
SUNDAY: Sunday Full Amateur day – 8am start: Schedule TBD
*Event Schedule Subject to change without notice*
EVENT EXCLUSIVES
PREFERRED PARKING     $10.00 /DAY
Complimentary Parking is ALWAYS available for our Guests at every event, at Major/Specialty events however there is also Preferred Paid Parking in effect. Preferred Parking Passes are available on-line in advance and at the track on event day; preferred parking passes are sold/issued on a per day basis. (Limited quantities).
MOTORHOME   $70.00/Weekend
GET INTO THE ACTION If you're A Super Fan into the great outdoors, love the smell of race fuel, rubber, the roar of loud engines- and doesn't want to drive home after a long day of on-track action:  we got the CAMPING SPOT for you! The SMX Triple Crown Nationals MOTORHOME VILLAGE (Limited Availability). MOVE-In: Friday. All Motorhome Village Guests MUST have a Weekend Pass-no exceptions.
SUITE/SKYBOX   $700.00/Weekend: Contact info@radraceway.com for availability
See the BEST  Racing Canada has to offer from the comfort of your own SKYBOX, situated directly above the Oval Track Main Grandstands. INCLUDES:8 SMX Nationals Passes; 8 Saturday Early Access Passes, 2 Preferred Parking Passes, In-Suite Food & Beverage Service, 3′ x 8′ Skybox Signboard Display Area, & Live "Welcome" Announcement
**RESERVED SEATING & VIP TICKET OPTIONS COMING SOON**